Creative Coach Service Department Grows...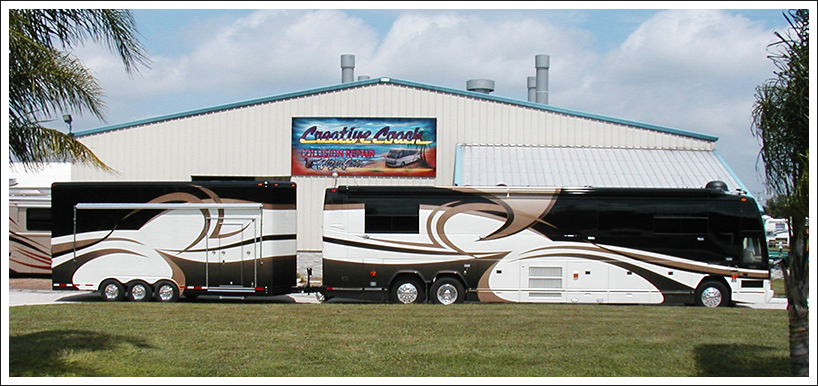 The Call of the Open Road…
…a constant beckoning for those who enjoy traveling in the lifestyle of the custom motorhome.
Whether it's traveling down an Interstate or venturing along the back roads of a scenic landscape, there is nothing like the pride of motorhome ownership. Eyes will turn and marvel at the customized beauty of your home on wheels.
At Creative Coach, we're always "on call" to assist you in your time of need. For some, it's the desire to create that "personal touch" that sets your motorhome apart from all the rest. For others, it's the need to restore your motorhome to its original beauty following an unforeseen accident, either on the highway or damage caused by Mother Nature.
Creative Coach is a full service collision repair, custom paint and interior design facility. We understand the special needs of the motorhome community and consider it a privilege to be of service. For every member of our team of experts, your satisfaction is their #1 priority.
As you travel through the various pages of our website, we believe you'll come to understand that at Creative Coach there is no substitute for quality. We look forward to our "journey" together.
And should you ever need to park or store your RV or motor home, let us know, or visit our self storage and RV storage business right across the street,
First Choice Mini Storage. We are able to accommodate all types of motor homes and recreational vehicles, and offer electric hookups as well.